Technology has impacted everything around us. From the business sphere to our daily lives — technology is deeply entwined with everything we do. One of the most significant impacts of technology has been in the field of Learning and Development (L&D). Thanks to the global access of the Internet, rapid penetration of smartphones, and the growing adoption of disruptive technologies like AI and ML, both academic institutions and corporate organizations can promote collaboration and learning on-the-go.
At present, technology plays a dominant role in the lives of the younger generations. With the amount of information available online on the Internet and the growth of online training platforms like e-learning, MOOCs, video training, online demonstration and simulation, and so on, L&D teams of organizations are rethinking and reshaping their ways of providing corporate training. While the basic principle of Learning and Development in the corporate sphere hasn't changed radically, what has changed is organizations' approach to corporate training. Technological innovations like AI, AR (Augmented Reality), and VR (Virtual Reality) are setting new standards of delivering training by engaging learners and improving their performance through the creation of an interactive learning experience.
The idea of integrating technological innovations in the L&D process is to help employees' upskill and enable them to maneuver new technologies while simultaneously boosting their productivity in the workplace. The inclusion of technology in the training space has helped bridge the challenges of time and disengagement in learning. Organizations can leverage trending technologies to adopt a holistic approach to train the workforce, leaving no member behind. And most importantly, it offers learners the flexibility to learn and hone their skills at their convenient time and venue.
Here are the top four ways in which technology is transforming L&D:
1. Artificial Intelligence
Contrary to popular belief, formal learning isn't the most crucial aspect of L&D — it is also what you learn while on the job. This is where AI enters the scenario. AI innovations and tools can not only promote learning on-the-go, but it can also allow them to leverage data as a pivotal tool for learning. Learners (here, employees) can use historical data to understand past performance and work on their strengths and weaknesses accordingly.
Data Science (AI & ML) and Big Data aim to extract insights from large volumes of data to promote better decision-making. L&D trainers can analyze the data of learning programs to understand what works best for training. For instance, which method of training do the learners prefer the most? With such insights, L&D teams can design more effective corporate training programs.
2. AR and VR
Both Augmented Reality and Virtual Reality open up new possibilities for L&D teams to deliver training. While AR superimposes a digital image in a real-world situation and allows you to explore your surroundings unobstructedly, VR presents before you a virtual world wherein just as a human in the real world, you are bound by physical limitations.
What makes AR and VR truly pioneering learning tools is their ability to captivate users and facilitate "presence" — with them, you get to engage in an immersive experience by being psychologically present in a place and at a particular time. Both AR and VR offer a 3D view of objects, which can be beneficial in many use cases. For instance, medical students can use AR/VR to study a 3D model of human organs and zoom in to see their intricacies for better learning. Apart from classroom learning, AR and VR are now finding applications in retail, tourism, design modeling, and much more.
3. Mobile Learning
In the face of the skyrocketing penetration of mobile devices, organizations have opened up to the fact that mobile holds the potential to change the way companies work, communicate, and interact. Mobile learning solutions are allowing companies to expand global reach, improve product adoption, and engage customers better. For instance, video conferencing on mobile platforms like Skype enables L&D instructors to communicate with a vast audience who are present remotely. They can deliver training just as effective as face-to-face methods.
As mobile devices have gained an essential place in the business sphere, more and more companies are joining the "mobile-first" bandwagon. They are developing products, content, and training programs that can run efficiently on mobile platforms.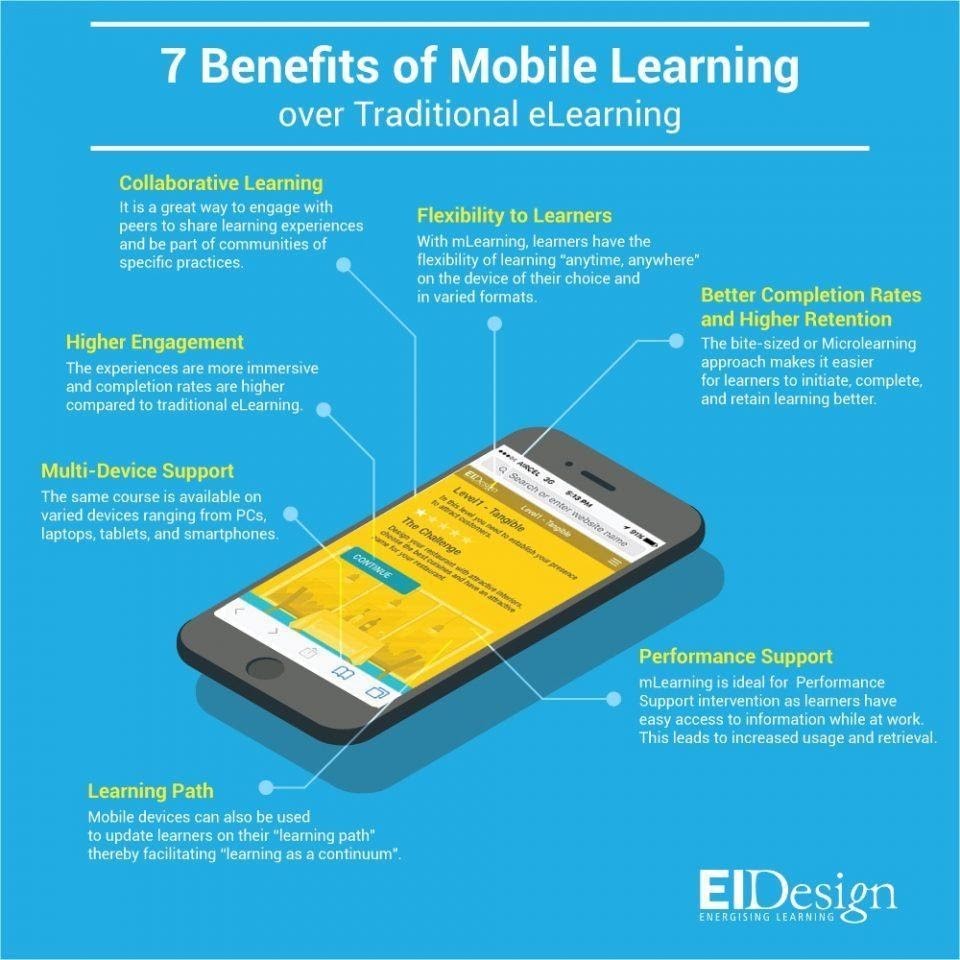 4. Adaptive Learning
The Adaptive Learning model lets organizations break away from conventional learning and training methodologies by encouraging learners to learn at their own pace. By monitoring and tracking the employees in real-time, L&D instructors can identify which learning method works best for which individual.
Moreover, Adaptive Learning leverages technology-based learning solutions that offer information round the clock. So, learners can learn at their own convenient time, without hampering their work-life balance. Learners can personally interact with instructors and mentors to overcome their weak points.
How can companies promote collaboration and learning?
Although technology is fastly penetrating the corporate training sector, it should never be seen as a total replacement of the conventional corporate training — the aim here is to enhance the quality of training and knowledge provided with the aid of technological innovations. Technology should be leveraged in ways that it complements and enhances the effectiveness of the existing learning and training models, while also creating plenty of scope for new learning models.
To promote collaborating and learning in the workplace, companies must design tech-oriented corporate training programs that focus on two core elements of L&D – the learners and the learning process. L&D teams must consider a few things that will help them determine whether or not a tech-driven learning program is a right fit for the company. The first task is to identify the areas that need improvement, and then to develop a diversified training program scheme that can cater to the needs of each employee.
When it comes to choosing the medium of delivery, companies must never lose sight of the primary learning objectives and the audience. Training programs need not be based on just one type of training – it can be a blend of two or more learning procedures. Companies investing in L&D must treat learning and training as a long-lasting process by taking into account various factors like context setting and preparation, knowledge transfer, practice, application, and ongoing reinforcement. Only by doing so can organizations create genuinely immersive learning experiences for their employees.
Crafting the ideal collaborative and learning program can be both resource and time-intensive. However, with Simplilearn's Corporate Training, your company can reap the benefits without incurring high costs!