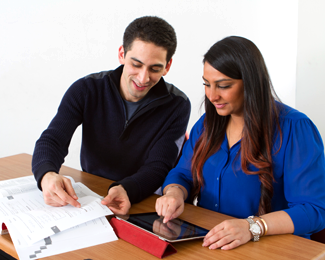 GMAT Sentence Correction is a painful area for most non-native test takers. The Manhattan SC guide has been a favourite among Indian and international MBA applicants for several years.
Download Free GMAT Preparation Software 
You can download the free GMAT software – GMATPrep from MBA.com – to prepare and train for the test.
The GMATPrep software includes two full-length CATs (computer adaptive tests) that are a very good approximation of your GMAT score if you were to take it with your current level of practice and competence.
It also comes with answers to each question, but unfortunately, it does not include explanations of the underlying concepts.
WHAT ABOUT THE FREE GMAT PREP MATERIAL ON THE INTERNET?
There's a whole lot of 'free' material available on the Internet that GMAT test takers seem to love. But there are several things you should be aware of, if that thought has crossed your mind.
'I've got 50 MB of the best GMAT preparation material with me, good GMAT verbal and quantitative questions, full-length exam software… downloaded for free from the Internet. Plus my friends gave me another 25 MB of practice questions. I think that is more than enough for anyone to crack the GMAT. Right, sir?' The twenty-four-year-old candidate from Chennai asked me excitedly on the phone, as if he had stumbled upon a gold mine. And he was definitely not the first one to come up with that question.
Apart from copyright and IPR infringement issues which he was completely ignorant (?) about, he was also missing another bigger point. Several interrelated ones actually.
Accuracy and Credibility Issues 
Free content does not necessarily translate into accurate content. People download GMAT verbal questions, quantitative questions, complete courses, free full-length GMAT tests and all other variations that you can imagine. Many are shocked to see mistakes in the answers and, at times, in the questions too.
Quantity vs. Quality 
Brute force will not help you score high on the GMAT. A few hundred well-chosen GMAT questions can improve your score more than a random collection of thousands. Check out the blogs of folks who have got high GMAT scores. Their 'How I scored a 750 + post' will invariably include a diligently created study plan that they customized according to their personal needs.
Inconsistent Levels of Difficulty 
The set of questions created by one GMAT test prep team (free or otherwise) can be dramatically different from another team's content. No wonder then that the students get a 740 in one test, 630 in another and then 760 in the third one. Training the brain to tackle GMAT questions is more a matter of getting the fundamentals sorted out and then digging into practice questions with gradually increasing levels of difficulty. That's how sports training also works – if you want to build muscle mass you don't jump from 5 pound dumbbells to 25 pounds ones and then back to 15 pounds.
Despite the huge amount of free exam resources that they've collected by legit or dubious means, many candidates fail to reach their target scores. The reasons for their bad performance have a lot to do with the points listed above.
Of course, you don't need to sign up for any class or online course if you can manage it on your own. But do follow one 'system' with dedication, structure and discipline. Here's a short and free GMAT and SNAP practice test to get you started.