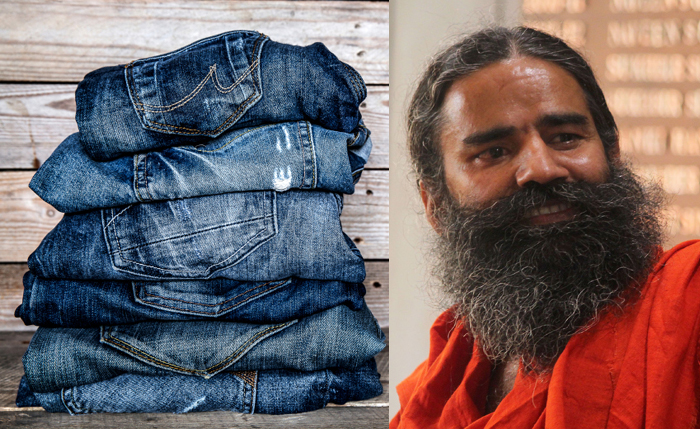 After occupying entire industry of Indian market, Yoga guru Baba Ramdev is all set to begin his new inning in the apparel market. Few times back, he and his venture Patanjali launched various noodles to grab the attention of people over the Maggie noodles controversy. He is already famous for various household products and now his announcement to entering in apparels market surely creates some buzzes in the leaders of this sector.
What are the plans?
Well, Baba Ramdev loves to be in the news. Time to time, he always gets succeed to make some news not only in the Indian newspapers, but also in world newspapers. In an interview after the announcement, he disclosed the entire idea of launching Swadeshi Jeans. He said that "the whole idea of launching jeans and apparel brands began from when someone asked me for Patanjali yoga wear.
After this, I thought why not we should launch the entire range of dresses. He said that "Paridhaan" will be the name of his brand in which they include the entire range of various clothes for everyone including jeans. He also quotes "We will create men's and women's dresses, not only conventional Indian garments but also new modern wear like jeans". Funnily, he said that just because I am a Yoga guru or Baba does not mean we cannot tie knot spirituality with modernity. We can create and develop some magic, let's say Desi Jeans.
In addition, he also said that if we are struggling to carry economic freedom for our nation from international and multi-national companies by endorsing native and organic goods, we must carry our own brand in the apparel market. It will definitely set another benchmark for Yoga guru-turned-industrialist Ramdev Baba's group Patanjali.
Highlights of the statement:
He is like an eye-candy at the present time for India newspapers. He said to the press that his venture is already setup its production units in Bangladesh and Nepal. He added our herbal household and other stuff have already arrived in the areas of Middle East and gaining popularity day by day. It is already popular in some countries like Saudi Arabia. He also included later, we must focus in poor countries as the earnings from those countries will be used for their development and progression. He played a political card by saying, our entrance to Afghanistan and Pakistan will generally depend on the current political circumstances, and if the condition is politically favorable, units will be put up in these countries.
Ramdev Baba has now become a smart market player. He knows everything and understands very well how to grab attentions without creating any controversial buzz. Well, what result will come out we will surely see it after sometimes, but the concept of Swadeshi jeans definitely found some space among people on social channels for a weekend joke.