Women empowerment means raising women to their highest potential. Providing them freedom of speech, choosing career and they must also be self dependent .
When women is a girl she works hard to nourish her talents. But as she gets married. Her abilities and talents are weighted on a balance. And after marriage, she is thrown in a world of day – to – day routine works and forced to suppress her talents and desires.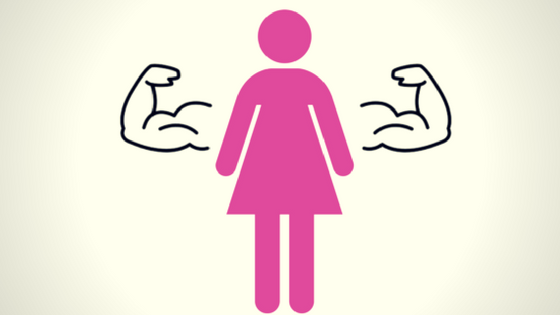 But, in present scenario I feel proud to see that today's woman is no longer left helpless, for an example, Malala Yousufzai said "All I want is an education and I am afraid of no one". SHE denotes a glimpse of woman power . She didn't feared any gun shot, faced it boldly and earned her right to education when the glimpse is being broaden, then , logically all women in India, are having such a strength.
Factor that affects woman power are as follows :
FAMILY BACKGROUND
Most important factor that affects women empowerment is Family background  When a women as a child grows in such an environment where she is being felt low , faces gender inequality and treated as an inferior person then she thinks herself as she is  shown in the mirror in the eyes of her elders.
But when a girl is born in a family where she is understood, where she is treated as a blessing and treated equally as her brother and even in some Indian families girls are respected as a goddess and they perform rituals of "Kanya Pujan" in "Navratri" then that girl, definitely, will reach the top and live life with flying colours.
Otherwise she becomes at taboo.
EDUCATION
Education is the process of learning knowledge, skills, values, beliefs and habits. It is divided into four categories : pre school, primary, secondary, college or university. When firstly, parents take girls till Secondary Level, then, according to Kiran Bedi a girl must choose her path from college to choose her career herselves then, their parents role is over. Girls must be open minded and plan their future goals as planning bridges the gap between where we are today and where we want to reach.
Confidence of girls : A confident girl leads to a confident woman, when a girl is confident in her teenage, she turns into a confident woman and leads to women empowerment.
Society: Society where a girl lives in is very crucial factor to determine the empowerment. As when society appreciates a girl success and respects woman and treats her equally with men, then, definitely it leads to women empowerment .
History: About 42000 years earlier, women only made life of human beings more civilized .Women developed how to control fire and made sticks for hunting to be helpful to men and 20 thousand years earlier, she only noticed the small girls who made clay toys and threw on fire which made it strong .Hence women only invented making of utensils even woman is the first doctor as recognised in our history, as shown in Ramayana and Shrimad Bhagwat Katha goddess Sita and goddess Radha are most beautiful , generous, knowledgeable, having values and we worship today them because of their holi deeds this must ensure women empowerment women can be Kaali at times of self protection, woman is really goddess image .But, unfortunately, women herself couldn't realise it. She must be empowered.
Some achievements of women facing difficult circumstances are as follows:
Bhuri Bai – labour work in her childhood – first international adivasi artist.
Farida Rihana – faced no support from family – first Indian woman paratrooper.
Sunita Krishnan – faced various brutalities, revolts even just saved from acid attacks trial- she saved 21000 girls and women from human trafficking.
Jasinda Ardorn – travelled for giving speech in United Nations with her three months daughter-she became New Zealand Prime Minister in above examples, women empowerment has reached the heights women would be empowered when men start working that type of work that women has to do as in words of Jasinda Ardorn . The most famous example of firmly decision maker is Gita Gopinath( International Ehief Economist) . Next example is Avani Chaturvedi of Rewa, her dream came true as she became first woman fighter pilot of Indian Air Force .Also in India gender gap is decreasing in politics .
Women's Day is celebrated on 8 march and it represents women is empowered fastly. We can understand importance of women from this, as some one has said –"you educate a man , you educate a man; you educate a woman ,you educate a generation" When women is empowered the whole generation is empowered when women is happy whole family flourishes. In recent study it is found that 82% women lives in stress as she faces 24 hour house work with no respect and no pay .In this situation, firstly women has to understand self care and self importance. Self importance doesn't means to be egoistic it just means respecting yourselves .Women must take one day free of cooking and do whatever she likes she must be respected by a family but firstly she has to love herself as she is precious .
Healthy wealthy and Happy women : Firstly ,women empowerment is just on how healthy is women's mind and body and how happy her soul is? When women fulfils all three factors next is how much education she has earned then comes financial security .She is a mother she needs to be educated .We have listened a bad person but never listened a bad mother. Woman is full of love for her child and always has good intentions for her child she makes sacrifices for child therefore , women herself should realise her value. Even in God's view women and men are equal then why people and women herself couldn't understand it. She must be empowered by spreading Awareness to her. She must be awarded for Excellence and let live her life peacefully because she is full of talents ,she is all rounder ,she is Sania Mirza, Indira Gandhi Babita Phogat, Sushma Swaraj, etc. she is everywhere .She is proud of the nation, she is Miss Universe ,Miss World .
In present scenario, women may be well educated and earned professional training but then also , she becomes unemployed as she has to manage house work and job work together. For this ,awareness must be created to make sure whole burden of house work must not be for women only man has to understand women empowerment then it will lead to working women and benefit in growth of national income. Women must be positive thinker she must behave like a hero then only she will be empowered .She should not feel herself as a burden because she is eal hero.
Ways to empower women There are no such written code of conduct on empowering women but with smaller steps greater successes can be achieved .
Some ways are as follows :
Girls must be made bold from their childhood.
No discrimination performed at home .
Women must be non – competitive to other women
Always take decision what she likes.
References