The land of royals, Rajasthan, is named this way not for nothing. Although the royalty now mostly belongs to the sandy pages of historical time, it never gets old once you start living and not just experiencing the tour to Rajasthan. In the sand dunes, flavours from the royal kitchens, the game of hunting and being hunted in the jungles, jewel-studded palaces and fortifying security of forts of rajwaadas, everywhere royalty becomes palpable and not a fleeting emotion.
 If you start counting what all would fall under the 'royal' scanner, there are several things to embrace:
Complexity of the forts
At many places forts and palaces cannot be segregated because the latter houses the former, but it is worth the pain for the purpose of a better look at the importance of the both. Forts are the strong fortified structure meant to encase a whole city ruled by a particular Raja. When war is upon a kingdom, the strategy and strength required to break into the fort by bringing down its army was all what it took. Some of the fine examples of such forts are Jaigarh Fort, Nahargarh Fort, Mehrangarh Fort, Amber Fort, Chittorgarh Fort, Junagarh Fort and Golden Fort.
Bejeweled life of the palaces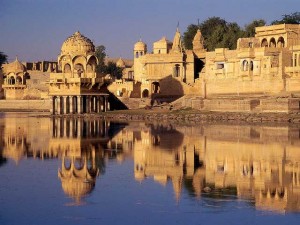 No place is better to start exploring own stories and painting personal brand of experience in Rajasthan than palaces. Encompassing more history than anywhere else of day-to-day strategies, decision-making and politics in a race to prove better than the rival king, these palaces are a beauty to reckon with. City Palace of Jaipur and Udaipur, Amber Palace in the outskirts of Jaipur, Lake Palace in Udaipur, Laxmi Nivas Palace in Bikaner and many more are to be seen. An Observatory erected by Maharaja Jai Singh himself couldn't amount to any palace, yet an important place to visit in Rajasthan.
Royalty of Royal Bengal Tigers
No visit to Rajasthan is complete without the sighting the famous (and fabled in many cases) lethal predators of the Indian wild. And that you could easily do by showing up in the right months (absolutely avoiding Monsoons in India) and picking up a tiger safari in one of the national sanctuaries of Sariska, Keladevi and of course Ranthambore. For the appreciator of other forms of wildlife, there are Keoladev, Tal Chapper, Desert National Park and many more.
A festive night in the desert
Who could deny a cool evening evolving into an enchanting night by the bonfire amidst of tribal dancers and camel resting from their day trip through the sand dunes in the heat induced mirage on Thar? Well, no one who has planned to have-it-all in a Rajasthan tour package which includes Rajputana Desert Camps in Jaisalmer.
Battle histories in grand museums
Valour and patriotism for their land were the most predominant of emotions that Rajput kings and even queens used to revel in. Museums (most of them located inside their respective forts) with pictorial as well as living remains of that era help you take a look. Battle weaponry is still something that visitors love to spend time pondering on in some well-known museums like Jaigarh Arms and Haldighati Maharana Pratap Museum. Rest be assured, you would find doing tête-à-tête with many other aspects of history.
Aroma wafting from royal kitchens
Make yourself feel at home in the lap of royalty in the heritage hotels. Some royal private residences have now opened up their (partial or whole) palaces to allow life of abundance. You can stay in places like Taj Umaid Bhawan, Neemrana Fort, Leela Palace, and dig into the royal feasts.
Time to make a royalty-packed tour to the Land of Rajas!