Water distribution and drainage systems are a point of concern for every one of us. It has been advised to utilize resources in sustainable way. With this not just us but our coming generations can also utilize water and other resources conveniently. When water distribution is taken into consideration then it is necessary that there is no wastage and leakage of water. In a water distribution system, the kind of pipes and drainage fittings which are implemented are paid greater attention too. There are certain parameters which should be kept in mind while implementing a drainage pipe.
In the marketplace, plumbing pipes from various manufacturers are available in different prices. Also, there is a great variety of pipes which can be bought according to their implementation. Different pipes manufactured from different material are accordingly put in use in various drainage systems. It is obvious that we all have a little or no knowledge about which is the best pipe for any drainage system. Clay, concrete, metal, and plastic is the most common choices for the manufacturing of drainage pipe.
Although, a drainage pipe which is manufactured out of clay is quite durable and strong but is also very heavy and expensive. For industrial and commercial uses, clay pipes were used to a large extent. Also, if talked about concrete pipes, the strength and durability was unbeatable but the labor cost is too high. Most of the underground drainage systems have, majorly, been implemented with concrete and metal pipes. The extraction and procession cost of metal pipes is also very expensive.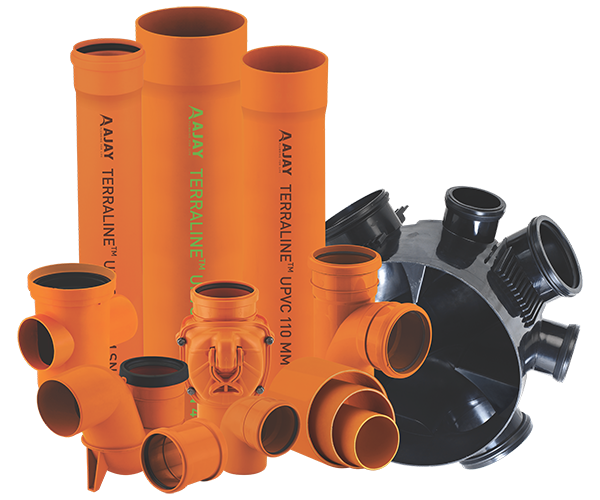 The material which is suited best for drainage systems is the synthetic plastic polymer. Plastic polymers are used widely because of the large number of benefits associated with it. As far as the material is concerned, the light-weight synthetic material is a lot easier to manufacture than concrete and metal pipes. Drainage fitting which is made out of the synthetic plastic polymers is much convenient to be implemented and saves you the hassle of regular maintenance.
One of the main reasons why plastic drainage fitting and pipe is popular is because these have fewer joints. These are available in long lengths which can later be cut into different sizes. Fewer joints reduce the risk of leaks. Leakage and wastage of water is out of the question when plastic pipes are taken into consideration.
While selecting a drainage fitting for you drainage system, you should keep it in mind that it is something which is meant to stay for a long time period. Make sure that the pipes which you buy are designed to sustain for a longer time. Plastic pipes are designed in a way that they can supply water for a prolonged period of time through them. These pipes have a longer life as compared to other pipes. Obviously, drainage systems are not something which is to be installed, again and again, so it's a better choice to implement the plumbing fittings which are long-lived. Another thing which poses as an advantage for plastic pipes is their cost-effectiveness. Plastic pipes are cheaper in manufacturing, and with that they are sold at a comparatively lower price in markets making these a favorite.
Choose pipes and fittings for your drainage system from reputable manufacturers who provide superior quality plumbing solutions. With the availability of so many pipe manufacturers, it has become really easier to select and buy the ideal plumbing fittings.