In India people honor the special relationship between brothers and sisters at the festivals of Bhai Dooj and Rakshabandhan. Festivals are an important part of the traditions and culture of a society. Most festivals follow traditions that has been handed down through the generations and they act as preserver of the unique culture of the society. In Indian traditions, family plays a very important role and people have honored and celebrated familial ties such as husband and wife relationship at Karwa Chauth, and brother and sister relationship at Rakshabandhan.  Bhai Dooj too is a celebration of the special relationship between the siblings.  It is celebrated along the lines of Rakshabandhan and the only marked difference is that on Bhai Dooj, sisters shop Bhai dooj gifts for brothers.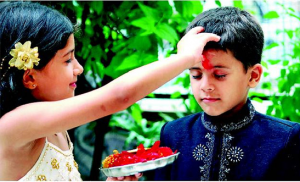 Bhai Dooj is celebrated on the fifth day of Diwali which is the second day of the new moon in the month of Kartik. The festival is known by many different names in different parts of the country-Bhaiya Duj in Northern India, Bhai Phota in Bengal and Bhau Beej in Maharashtra. The people in the country have celebrated Bhai Dooj throughout the ages and the festival celebrations follow many traditional rites and customs which have been passed down through the generations.
On the day of Bhai Dooj, sisters wake up early to perform the Puja ceremony. Prayers are offered to the gods to seek divine blessings for their brother's well-being and prosperity. The ritual performed by the sisters marks the love, care and devotion they have for their brothers. After the Puja ceremony, the sisters then apply a tilak or a vermilion mark on the foreheads of their brothers. Bhai Dooj reinforces the love and bond between the siblings and also gives them an opportunity to renew old ties. Especially for married women, the festival provides an excellent opportunity for the brothers to visit their sisters' place and spend quality time together. One of the most significant traditions of the festival is the present of Bhai Dooj gifts for brother from the sisters. The Bhai Dooj gifts act as a symbol of the love and affection for their brothers and it also enhances the bond between them.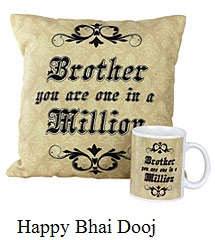 Family reunions, feasting and sweets are other significant part of Bhai Dooj celebrations. But with the onset of time, some traditions of Bhai Dooj have undergone slight changes. Traditional it was only the sisters who present gifts on the occasion but nowadays the brothers too present Bhai Dooj gifts for sister and the gift items ranges from simple dry fruits and flowers to designer apparels and fancy jewelry.  Even with these slight changes, the true essence of brother-sister love still remains the same.