School is the foundation stone for a child's education that plays an important role in their life. Choosing the right school can make a huge difference to the prospects of a student. Every parent wants to send their child in one of the best schools that is why there is always a mad rush for admission in these schools. There are many different options available these days and one can choose the best private school within their locality. As parents get confused which school to go for, the rating given to schools by different agencies is one of the ways people choose to select a school.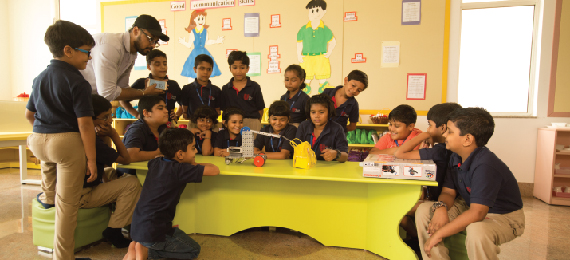 As the main aim is to help a child receive quality education, safety, infrastructure, teaching methodology and other factors need to be considered carefully. If you are staying in Gurgaon, you can come across different schools which promise quality education with a good environment to all the students. These best CBSE schools in Gurgaon make sure that every child gets the right guidance throughout their foundation years. Here are the best 5 CBSE schools in Gurgaon:
SCJ World Academy
SCJ World Academy is a place for holistic learning as it lays emphasis on making the students understand the concepts rather than just memorizing them. The classroom learning is structured around relevant issues and their solutions. The students engage in research and conversation with the other students and teachers to understand the contextual issues. What makes this institution truly valuable is the culture of discipline and high values that the school imbibes into the students.
The Heritage School
The Heritage School is located at Sector 62 Gurgaon. It is a CBSE affiliated school and has been offering every student with the best infrastructure and amazing facilities. With subject labs, design labs, library and much more, every child can grab the best education. The school has well excelled in the parameters such as teacher care and innovative teaching.
DAV Public School
DAV Public School was established in the year 1985. It is located at Sector 14, Gurgaon. It is one of the oldest and reputed schools providing each and every child quality education. It is a CBSE affiliated school and is known for a wide spectrum of extracurricular activities. Moreover, every child participates in different activities providing the school with a fun learning environment.
Suncity School
Suncity School is located in Sector 54 Gurgaon. The school was incepted with a goal to engage children in active learning. It offers a wide spectrum of choice of subjects to choose from. The school is well known for its safety, hygiene, and infrastructure.
Delhi Public School
Delhi Public School is one of the top CBSE schools in Gurgaon. It is located in Sector 45, Gurgaon and aims to provide the child with complete development through mental as well as physical education. With holistic development as a motto, the school offers world-class infrastructure to the children. Spacious classrooms updated technologies, and best teachers ensure every student gets quality education.
If you want to enroll in the best schools, then go to the websites of these CBSE schools in Gurgaon Delhi NCR and help your child build a great future.