Tarun Sagar Ji is a very well known Digambara monk. He is very popular all over India and overseas too. Each one of his follower love and admire his kadve pravachan. Those pravachan given by him are known as kadve pravachan and in comparison to other pravachans these are far more different and can be implemented in our day to day life. Usually his lecture includes family and social issues which most of the monks avoid discussing about.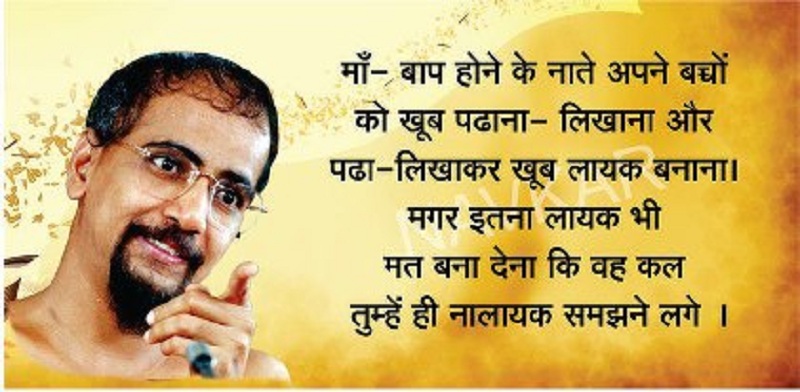 Almost all his listeners and disciples are non-Jain. Some slokhs of his teaching and lecture are also published in many well known newspapers and daily magazines. Recently he has launched a book known as Kadve Pravachan and it contains the compiled form of positive and useful thoughts of life.
Tarun Sagar Ji is different from other monks:
Tarun Sagar Ji is quite different from other monks these days. There are many monks who do not like to meet the politicians but he frequently meet them sometimes as a guest and sometimes as a perfect preacher or guru for them. Even though he belongs to Digambar School but he promotes not to believe in sectarian points and views. You could also find Kadve Pravachan in Hindi which is also compiled by Tarun Sagar Ji himself.
Tarun Sagar Ji was invited by RSS in the year 2009 in a function organized for the occasion of Vijaya Dashami. This function was organized in Nagpur and there he made an announcement saying that using a leather belt is an open sign that your are promoting non-violence and he requested all his disciples to use canvas belts instead of the leather ones. He is very neutral about the politicians. He has many times praised them for their good work for the society but if he finds them doing something wrong or anti-social then he criticizes then and tries preaching them to bring on the right track.
All about Tarun Sagar Ji's life:
Right after his birth he was named Pawan Kumar and he was born on 2rth of June in 1967. His mother's name was Shanti Bai Jain and his father's mane was Pratap Chandra Jain. He was born in Guhanchi, a very small village in Madhya Pradesh. Tarun Sagar Ji was initiated as Kshullaka at a very tender age of thirteen as one of the Digambara monk named Acharya Pushpdantsgar in 1988 in a very young age when he was only 20 years old.
With time he became a very important and well known personality suddenly when one of the local TV channel launched a program known as Mahavira Vani. But at present he is a very prominent personality when talking about Tarun Sagar ji ke Kadve Pravachan.
Tarun Sagar Ji was made the guest of Madhya Pradesh state in 2002 and then of Gujarat in the year 2003 he was invited as the guest of Gujarat, Karnataka and Maharashtra. There in Karnataka he got the title of Krantikari- a revolutionary. It was not just limited to this even more he got the Rashtra Sant award in 2003 in Madhya Pradesh state.