Kalyan Singh, the former Chief Minister of Uttar Pradesh has taken the oath as 20th Governor of Rajasthan on Thursday morning. It was a grand oath taking ceremony which was held in the presence of the Chief Justice of Rajasthan High Court, Mr Sunil Ambwani. The Chief Justice of Rajasthan High Court administrated the entire oath taking ceremony. The grand function was held at Raj Bhawan.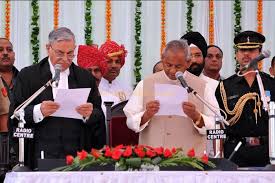 In the grand occasion, Assembly speaker Kailash Meghwal, Chief Minister Vasundhara Raje was also present along with the senior officers of Rajasthan Administration. Before the oath taking ceremony held, Chief Secretary Mr. Rajiv Mehirshi read out the warrant of appointment issued by the President. The entire occasion was held with maximum grandeur and the ceremony was celebrated in entire state.
The view at Raj Bhawan was spectacular where the enthusiast party workers screamed with the slogans like 'Jai Shree Ram' and 'Vande Matram'. Presented party workers and ministers were happy and welcomed Mr. Singh with opened arms. The most interesting part is that Mr. Kalyan Singh received guard of honor. It was Mr.Ram Naik, Utter Pradesh Governor who was holding the additional charge of Rajasthan before the appointment of Mr. Kalyan Singh. Mr. Ram Naik was given the responsibility of taking the additional charge of Rajasthan after Margaret Alva completed her period as Rajasthan Governor on 5th of August.
People of Rajasthan must have high hopes from the new Governor. We have to wait and see how Mr. Kalyan Singh performs as a responsible Governor of Rajasthan.