Zimbra Email is a business-class hosted email solution for businesses looking for better functionality, more reliability, and improved integration than regular email services. With Zimbra Hosted Email, managers are no longer bound to their desk so as to appropriately manage your email and calendar — view, reply, file and schedule from their laptop while sitting in a restaurant or from mobile phone while on go; when you return to your desk, all modifications done will be reflected.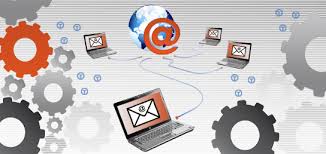 Now bid adieu to mismatching calendars and email copied persistently around the office — set up shared mailboxes, calendars and contacts for seamless collaboration.
Zimbra Hosted Email is a certified, feature rich and powerful business email solution which solves these issues and provides many benefits over standard email services.
Here is a quick rundown of key benefits of Zimbra Hosted Email:
Shared mailboxes

It allows multiple users to access specified number of mailboxes, all from their standard email program such as Microsoft Outlook

Shared calendars

It also enables the key managers to view and update each other's' calendars based on permissions granted by administrator.

Shared contacts and tasks

This attribute of Zimbra email hosting helps the user to unify these items across entire business.

Mobile phone synchronization

Users don't have to worry about how to access your mailboxes, calendars and contacts when you are outside. All can be easily synced on mobile devices including iPhone and Android

Feature rich webmail

It exhibit the same mailboxes, calendars, contacts and tasks akin to user's desktop email program.

Feature rich desktop mail client

In case, the user don't own an email program particularly Microsoft Outlook, they can use robust Zimbra Desktop mail client at no additional cost.

Centrally stored and managed

All business critical data is stored on our hosting infrastructure, not in a susceptible workplace, and backups are fully automated.

Locally archived

Users can save all their emails, calendars and contacts at any point of time from an email program.

Import existing mail

It allows users to easily import all their existing mails, calendars and contacts from Microsoft Outlook, Exchange, IMAP, and many other related platforms with a click of a button.

Scalability

This is one of most attractive feature of Zimbra email hosting. It enables the users to enjoy all of these advantages for a single user that too at minimal cost, or for thousands of users for bigger organizations.

Hence, simplify your business operations by integrating Zimbra hosted email within your existing infrastructure.