The Pink City Jaipur is a perfect place to get lost in nostalgic times. The city, a stronghold of the Rajputs, gets its name from the pink stones used in the walls of the city and its bazaars that sell everything from spices and pottery to embroidered leather shoes. Founded by Sawai Jaisingh II, Jaipur is the perfect place to take a breather from the never-ending madness of Delhi. In fact, even the ride from Delhi to Jaipur by car is highly therapeutic if planned and executed properly. A checklist is perhaps the best way to go about planning your journey to the Pink City and we promise to give you one that will make your journey an unforgettable one.
Leave before the peak hours
This is the first thing you need to consider when heading to Jaipur from Delhi. While the road that leads to Jaipur is a part of the Golden Quadrilateral and, as such, is one of the best in India, the Delhi traffic will always remain unpredictable. Once you get tangled in a gridlock, it could easily take around 8 hours sometimes to cover the 250-km distance between the two cities. Our advice to you is to leave early. This will not only allow you to beat the traffic but also to enjoy your ride.
Keep that tummy from grumbling
An ideal ride in a Delhi to Jaipur taxi could easily last around 4 to 5 hours. So it's always good to pack some knick knacks in your knapsack. Either that or you could always pause your drive at one of the many dhabas on the way, if you're up for it. Dhabas on the Delhi-Jaipur Highway are well-known for their delicious, if not absolutely hygienic, servings of the local cuisine. If dhabas are not your cup of chai, help yourself to some home-made beverages and biscuits as you dash through the highway and you'll probably reach the famous "ChokiDhani" by lunchtime for your dal bhaatichurma.
Rent your ride
Like the Delhi traffic, the Delhi weather could also play spoilsport. When you try to leave Delhi before peak hours, you may have to sacrifice your visibility at times thanks to fog and haze, which is quite common in Delhi. If you know a thing or two about driving, you'd certainly know that driving in these testing conditions isn't very pleasing. So we advise you to leave it to the experts. Get a cab service in Delhi to drive you while you can sit back and enjoy the views.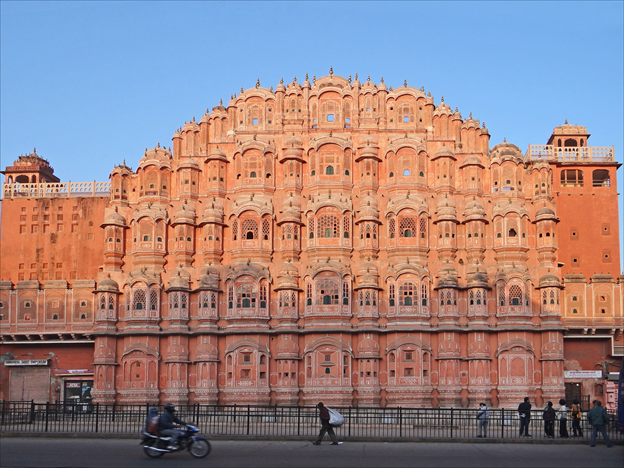 Finding a ride while in Jaipur and then travelling within the city can also be a hassle at times and you would probably miss out on visiting the UmaidBhavan or the HawaMahal because you were lost and the monument closed down for the day by the time you reached. You can avoid this entire fiasco when you rent a car in Delhi and then visit your destination. Most cab drivers know their way around the cities they drive you to. As a result, they will not only save you the hassle of driving but also guide you through everything that the Pink City has to offer.