Modernist architecture lives on in Chandigarh, the brainchild of Le Corbusier and India's first planned city. The city's organized neighborhoods and ramrod straight crisscrossing roads encapsulate the vision of a modern India – and Chandigarh is in many ways a global trendsetter in citywide landscaping. Driving around the city is always a joy. The attractions would include the Capitol Complex, a UNESCO World Heritage Site which spreads over a hundred acres and provides the administrative seat of the region. Some of the important monuments here are the Tower of Shadows and the Open Hand Monument. Many travelers who are looking for an authentic experience of this modern city are choosing self-drive cab services in Chandigarh. With more freedom and flexibility, travelers can make impromptu detours and stops to complete their errands and discover new places in style.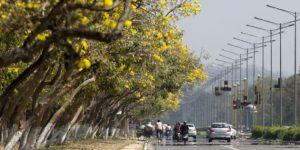 Chandigarh is also famous for its golf course, a tempting prospect for those who like to hit the greens, and a nice place to unwind amidst open verdant spaces. Chandigarh has many landscaped open-air spaces. The Zakir Hussain Rose Garden is a favorite haunt for flower and plant enthusiasts. The Rose Festival, held each spring, is one of the big attractions on the city's social calendar. Sukhna Lake provides great sunset views and the Rock Garden located nearby holds an eclectic collection of art installations. An artificial waterfall and sculptures made from recycled material are some of the highlights here. For something more niche, visitors can head over to the International Dolls Museum.
A Home for Exotic and Rare Species
Located just 20 kms from the city, the Chhatbir Zoo is one of the largest in North India and completely worth a visit. The zoo is home to many stalwarts of the Indian forest such as Bengal tigers, Asiatic elephants, leopards and the very rare Asiatic lion. Other non-endemic species in the zoo include hippos, the African buffalo, the jaguar, and zebras.
Gateway to the Hills
Chandigarh also provides an exciting gateway to the snow-clad mountains and alpine valleys of Himachal Pradesh. The rafting paradise of Kullu is a scenic drive away along with the famed Bohemian hill town of Manali. For something closer, a morning drive to the enchanting Morni Hills is a good idea. One can catch views of the nearby mountains and it is considered a good trekking destination. There are two lakes here and other attractions include ruins of an old fort.
Zoomcar is a top choice for those who are looking for a self-drive taxi service in Chandigarh. An easy app-based interface for booking and assurances like 24/7 on-road support make it a convenient way to see the city. Chandigarh is a symbol of a modern India based inspired by brotherhood and a progressive drive. It is a city that needs to be experienced on one's own terms, a unique destination not just in India but in the world.