Kanyakumari is quite a famous place in Tamil Nadu, and it has a lot of tourists visiting every year. The temples, heritage and ancient beauty of this district attract people and also the gorgeous beaches. Since Kanyakumari is located close to the Western Ghats and is bordered by the Lakshadweep Sea, it is even more incredible! So, if you are planning a trip any time soon, make sure you consider Kanyakumari in the list. Also, don't forget to visit these few places…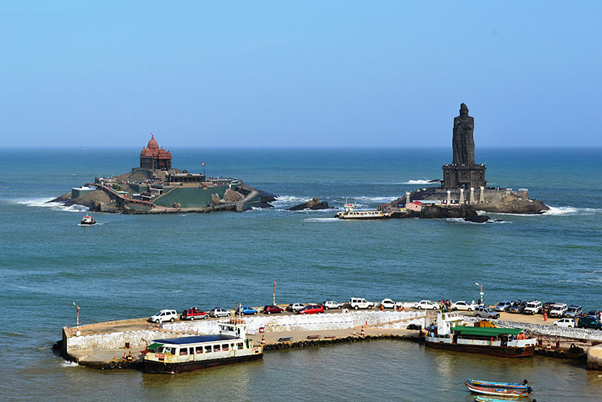 1. The Kanyakumari Temple –The temple is also popularly known as the Bhagvaty Amman Temple and has an important place in the Indian mythology. This is a major temple, which is famous all across India and is mentioned a lot in the history of the country. The unique architecture and beauty of this temple will captivate you. You cannot miss this place when you are in Kanyakumari.
2. Vivekananda Rock Memorial – This is yet another iconic place to see while in Kanyakumari. The Vivekananda Rock Memorial is 100 meters away from the main shore and is another well-known tourist spot. You can take a ferry to reach this rock island. Don't miss out on the Shripada Mandapam while you are in this place. Also, avoid going during the weekends because you could come across a lot of crowd. It is better if you pick a day and time when the locals would be at work.
3. Suchindrum – This temple town is almost 11 kilometres away from Kanyakumari and should be in your list. It is an ancient town so you will be seeing a lot of different and old age architecture. Make sure you take your camera along to capture some stunning views here.
4. Padmanabhapuram Palace –The Palace was the residence of Travancore Rulers and this was built in 1601 AD. This fort has a lot of important buildings, which were a vital part of the history of Tamil Nadu. The fort also has a small museum which has many informative artefacts, weapons, daggers, wooden furniture from the old times.
5. Thiruvalluvar Statue – This is a huge 133 feet long statue of Saint Poet, Thiruvalluvar. He was one of the greatest Tamilian poets in the country which is why his statue was made. His statue is one of the most massive in Asia and was unveiled in the year 2000 on 1st of January. The status is also decorated with 10 elephants that point towards different directions. Photographers will enjoy their time at this statue alone.
Kanyakumari is that one place down south that you cannot miss visiting. It has a mixture of culture, heritage, history, great architecture, food and so much more. If you are not someone who likes history or temples, you can always relax at the beach and have a fun holiday time here. Make sure you book your train till Varkala Sivagiri and then take a taxi till Kanyakumari. Don't forget to advance book the food in train along with your tickets.
Author – The author is an avid traveller and loves visiting South India. Read some of her articles on www.travelkhana.com