Today, India is considered as one of the major forces in global economic market. According to global survey of top decision makers in multinational corporations, for next three years, India is the most attractive investment destination in the world. India is a preferred destination for invertors over other major countries because of its huge market base, fast developing spending habits, good administrative setup, favourable business environment and attractive foreign policies. Apart from it, a vast network or bank branches, financial institutions and a well-organized capital market contribute to make India a preferred destination.
As compared to the 2014 survey the number of people, who believe that soon India would be among the world's leading top 3 destinations for manufacturing by 2020, had increased from 24% to 35%.
India has a vast network of technical and management institutions, which is the highest international standard. These institutes develop best human resources. The government of India is also taking some initiatives to attract foreign investments in India's diverse sectors. Government has announced a number of attractive schemes and policies from time to time to lure investments.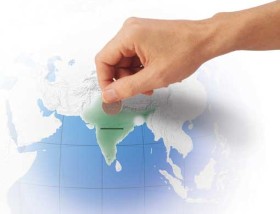 According to the EMPEA's global limited partners survey, 30% respondent plan to either begin or expend investing in India over the next 2 years, compare to other emerging markets. The report shows 89% of respondent believe that investment is infrastructure projects and 100 smart cities projects would be significant drivers of growth. According to DIIP (Department of Industrial Policy and Promotion, The total FDI investments received in financial year 2015-16(April 2015 to March 2016) was $40 million, which shows that the efforts to improve ease of doing business  and relaxation in FDI norms is increasing results.
The domestic market, stability, knack or product quality services & goods and provide top class services at lower cost are the most important factors in making India attractive.  Consumer goods, services and healthcare are the most attractive sectors for foreign investors.
Today, there is hardly any big company in the world, who doesn't have their presence in India in one or many ways. Some companies outsource their services like accounts and BPO operation to India. This is possible only because these companies are getting excellent services and value for the money they invested.
To increase investments, India's chief priorities are improving infrastructure, improving labour laws, introducing a uniform goods and services tax initiating investor-friendly FDI policies and straightening dispute-resolution processes.
If you want to know more about the other latest news related to business and finance, visit us at Easystart.