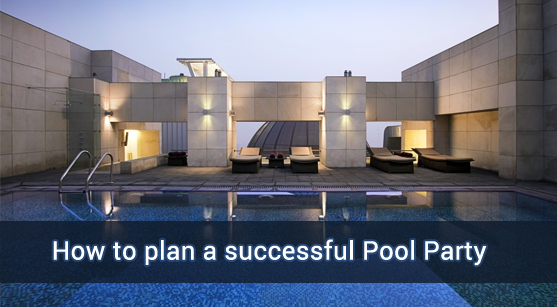 Getting invited to a pool party can be very exciting. However, if you have to plan it yourself then it requires lot of consideration before organising one.
Attending pool parties was more of trend in western countries, but this trend is picking up in Delhi quickly these days. Parties are a great way to socialise with your friends, and hence, today you can find many pool party venues in Delhi these days. Organising a pool party isn't easy, and hence, requires lot of planning for organising one. Let us take a look at some factors that should be considered while planning the party:-
Pool parties are usually organised during spring season since pools give good reason to beat the summer heat. So you should plan the party on a perfect summer day when it is pleasant and people can enjoy the weather with food, drinks and music.
Party is nothing without good food, drinks and music. Food served during pool parties are mostly consists of appetisers and snacks. You would hardly find a proper buffet organised for a pool party. Snacks should be both vegetarian and non-vegetarian catering to both kinds of guest. No one should feel left out. Hiring a good caterer would be a good choice. If you don't have space issues, then having a live kitchen would add flavour to the party.
You cannot imagine a pool party without drinks. You should be ready to serve all kinds of liquor as well as normal drinks as well. Setting up a bar and hiring bartenders would be a good option. Since they are trained in serving drinks, therefore they can manage well in the quantity of liquor you provided. Also, women in the party like to drink cocktails so these people have experience in preparing cocktails as well
Music should always go with the theme of the party. Therefore, light beach music or trance is a good option. Hire a DJ since they have good knowledge about the music.
Pool parties that are organised in western countries means women wearing swimsuits and men wearing boxer shorts with bare upper bodies. However in India, wearing a swimsuit to a party can be intimidating. But you can ask people to wear light coloured clothes like shorts or skirts and men can wear half pants in neutral colours.
Since it's a pool party, therefore you should be ready to swim as well. You should have enough floaters in the pool for people to relax and enjoy the weather with drinks and music. Arrange lay beds near pool areas for people who don't know swimming to relax. You can even have activities like beach volley in the pool as well.
So, organising a pool party is as difficult as organising a wedding ceremony. If you have a house that consist of a pool then great else there are many resorts and hotels that can give you good discounts for pool parties with a complete package of food, drinks and music.