CloudOYE
CloudOYE is leading Cloud Hosting Provider with more than 12 years of established presence in the Indian hosting industry with an amazing list of clients that range from small enterprises to large Fortune 500 corporate organizations. CloudOYE is reckoned for Tier III data centers and provides 99.99 percent network uptime guarantee based on Service Level Agreements.
It is high performance servers are built to mitigate total cost of ownership with minimum risk of downtime.
You can bank on their data center services for data archiving, and many more solutions that assure flexibility and scalability of hosting plans. CloudOYE is the most sought after host for cloud hosting services, web hosting solutions, and data center services t name a few.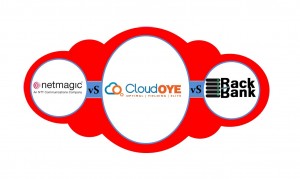 RackBank
RackBank offers wide range of data center services with its data center facilities situated in central India. It has installed secured and large data center facilities in Indore and boasts that it is the first data center in Central India. The services offered by RackBank range from shared hosting, VPS hosting, dedicated hosting, and colocation services to name a few. RackBank was established in 12013 and claims top offer 99.98 percent uptime. It is also claimed by RackBank that since the facilities are centrally located, there is very low latency. They are implementing energy efficient facilities to reduce carbon emissions as well as operational expenses.
NetMagic Solutions
NetMagic belongs to NTT Communications and has multiple data centers in India including Mumbai and Pune among others. NetMagic was incepted in the year 1998 for delivering data center and cloud services to a banking organization in US.
It offers colocation facilities with support of redundant power supplies to make sure that server is always up and running. The quality parameters established by NetMagic are followed in same spirit across its al data center to maintain uniform standards. Due to presence of number of data centers, customers are offered flexible solutions. They can use data centers at two different locations, one as a primary and another as secondary facility.
NetMagic is also offering a broad suit of hosting solutions foe budget conscious customers. With these services customers are able to reduce their capital expenditure to a great extent. Clients can also bank on their cloud grids to avail cloud hosting services. Cloud computing services by NetMagic offer its customers, choice of selecting bandwidth, CPU, storage size and memory size. These services are designed to create virtualized servers that are physically positioned in multiple data centers of NetMagic.
Conclusion
CloudOYE emerges as the highly efficient and dependable hosting service provider in India.