Jewels of India luxury train journey is a truly royal experience that lives up its name. The well crafted itinerary of this marvelous train route has transformed Rajasthan Luxury Tour Packages.
The opulent package of royal tour, 'Jewels of India' packs every single day with an entirely new experience, which is filled with awe inspiring beauty, jungle adventures, and royal extravaganza in addition to fascinating cultural glimpses of royal Rajasthan.
The tour provides a magnificent view of the Taj Mahal, which is regarded for its ethereal beauty and a landmark of love and affection before proceeding to the thrilling wilds of Ranthambhore National Park.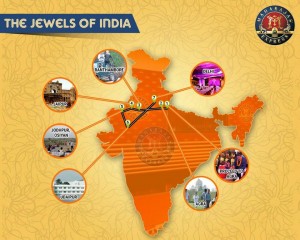 Guests can try their luck to come face to face with the wild beauty of tiger. After the wild tour of Ranthambhore National Park it is time to relish the royal beauty of glorious forts and spectacular palaces that are ubiquitous in Rajasthan.
The first day of royal itinerary begins with royal guests assembling at Delhi Safdarjung Railway Station to complete registration formalities for checking in into the Maharajas' Express. You are offered a welcome drink as the live Indian instrumental music plays in the background for creating a joyful mood.
Epitome of eternal love
The Royal Maharajas' Express departs as per schedule at 9 am for the journey to Agra, home to the world famous monument of Taj Mahal. Guests are offered a delicious brunch onboard Maharajas' Express as the train chugs along to reach the historic city of Agra. After reaching Agra you are visiting the monumental Agra Fort to enjoy its historic beauty and Mughal architecture.
You will be served royal dinner on board and you can also plan to visit a Five Star Hotel for Spa treatment or spend time shopping at local markets. Spend a peaceful night in the train and proceed to visit the Jewel in the Crown of India's tourism, Taj Mahal.
You will be amazed to see the detailed inlay work on white marble and the overall grandeur of the monument of eternal love of Mughal Emperor Shah Jahan for his most favorite queen Mumtaz Mahal. You will enjoy your breakfast while watching Taj Mahal from an exclusive venue and proceed to train for onward journey to Fatehpur Sikri to visit the sandstone citadel built by Mughal Emperor Akbar.
Glimpses of regal Rajasthan
Third day of the royal tour package takes you to Sawai Madhopur for proceeding to Ranthambhore National Park. Te jungle safari can lift up your spirits if you are fortunate enough to watch the royal tiger or a leopard. After enjoying a laid back breakfast on board the Maharajas' Express and enjoy onward journey to Jaipur.
The city of Jaipur is famous for its rich royal palaces, blue pottery, quilts, and jewelry. The fourth day is spent in Jaipur as you proceed to visit Amber fort which is located in the hills.
On day fifth, you will be visiting the grand Mehrangarh Fort to admire elegant beauty of carved panels and gracefully curved porches. The next destination 'Osiyan' is the gateway to Thar desert.  Guests will be enjoying the vast expanse of sand dunes and Sundowner cocktails as the sun sets on the sand dunes.
The royal journey continues further to take you in the lap of a scenic region of Mewar and enjoy charming beauty of Arawali hills as you arrive in the famous lake city, Udaipur. Guests can experience mesmerizing beauty of City Palace, largest palace complex of Rajasthan.
'Jewels of India' is a fascinating collage of regality, architectural beauty, cultural extravaganza and wild life. It is sure to linger on in your memories for a long time to come.