With most businesses focusing on making most of the cloud technology to plummet their capital expenditure and control ever-increasing operating costs, there has been an aggressive growth in cloud adoption over past few years.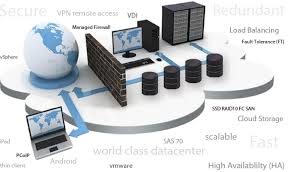 Nevertheless, there has been a compelling argument over cloud-based security risks and challenges for IT management that has been one of the key reasons behind slow adoption rate. Moving to the cloud without having comprehensive understanding with technology won't be a good decision on the part of any business. Therefore, it is very significant for businesses as well as individuals to first comprehend and determine their requirements before opting any of deployment models available on the cloud. There are primarily four key cloud deployment models, which are discussed below.
Here are the key deployment models in cloud computing solutions that businesses in Rajasthan can consider:
Public Cloud

This is typically how the mainstream services are offered over the web. This type of web hosting provision is supported by a fairly enormous amount of shared infrastructure and resources that is existent on a single remote location. This model of cloud is provided to enterprises with a self-service provision over the Internet. The billing is done on the basis of resource utilization as in whatever resources the user will be consuming they will be charged for that only.

Private Cloud

Private cloud computing provision is regarded as an extension of the Virtual Private Network (VPN) model. This unsurpassed model is best suited for individual companies that want to have extensive level of control over their highly confidential business data. It offers great deal of security to the data while still enabling users to seamlessly share files and documents.

Community Cloud

Community model of cloud computing can be best understood as a congregation of various public cloud networks to host a network. This combined effort is driven by comparable business requirements of organizations that belong to a specific industry in consort with enormous scale requirements that can't be hosted on a single public cloud. However, there is less number of users in community cloud as compared to in a public cloud; however the count is somewhat more than private cloud.

Hybrid Cloud

This type of a computing model is largely preferred by the organization that want to manage part of their resources (highly critical in nature) in-house and others (comparatively less critical resources) on a public cloud model. Moreover, it is best recognized to be used in cases wherein businesses want to proliferate inorganically without incurring huge capital in the procedure. Hybrid systems also offer fairly superior level of control over data.