Undoubtedly there are numerous places in Rajasthan that has always attracted tourists from different parts of the world. They have come back again and again because of the great experience which the travelers had while visiting the state. Be it the culture, people, custom, food, forts or palaces, they have never ceased to captivate them.
Though the state is mainly known due to beautiful, serene and magical deserts, however its tourist attractions go much beyond that. Major tourist attractions in Rajasthan mainly include forts and palaces with a lot historical significance and places with peaceful and innate beauty. These various tourist destinations are sprawl across diverse parts of Rajasthan.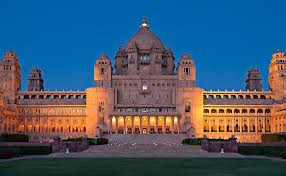 Jodhpur is one such tourist destination that attracts lot many tourists. Intestestingly, the forts and palaces of Jodhpur are the one which captivates majority of tourists. The Umaid Bhawan Palace is one such place which creates a lot of curiosity among tourists. Built by Maharaja Umaid Singhji, it is a majestic structure in Jodhpur that is certainly worth visiting.
Through this post I would like to highlight the key attractions of Umaid Bhawan Palace in Jodhpur. They are:
• The Umaid Bhawan Palace is one of the most marvelously constructed palaces of that era. The designer behind the impressive structure was the prominent Edwardian architect, Henry Vaughan Lanchester.
• This meticulous palace has near about three hundred and forty seven airy rooms are an architectural amazing thing.
• At present it is serving as a hotel, numerous of tourists come across to visit Rajasthan and stay here to experience the grandeur of this palace.
• There are various features of the palace that acts a visual extravagance to the tourist. Specifically, the dome rises to a height of five hundred feet symbolize a western disposition. Besides, there is also a Throne room with murals representing events from Hindu epic Ramayana.
• There is also a wood paneled library in this complex.
• Apart from all this, there are key attractions that you will find in Umaid Bhawan Palace that includes a Billiards Room, an indoor swimming pool, a private museum, tennis courts and marble squash courts.
• Another outstanding attraction in the palace is the exhibit of a wide assortment of weapons; huge placard gifted by Queen Victoria and puffy leopards.
Hence, don't waste much time contemplating on destination where you want to go for vacation. Spending time with your family in beautiful palace of Jodhpur during the trip will be a valuable experience.