Forts of Rajasthan magnificently reflect the architectural heritage of the state. These forts hold their own distinct place in the times gone by and culture of Rajasthan. They have been considered as the insignia of Royal Rajasthan. Today each and every city and town in Rajasthan, which was once a princely state, possesses at least one spectacular and captivating fort.
Here are some of the most famous forts of Rajasthan: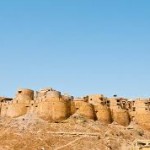 Golden Fort or Sonar Qila – Golden Fort is situated in Jaisalmer and is one of the oldest forts in Rajasthan. It was built on top of the Trikuta Hill back in 1156 AD by Bhatti Chief Jaisal. Interestingly, this fort still offers shelter to near about one fourth population of Jaisalmer city. There are many places that attract tourists inside the fort campus, such as Jain Temples, Havelis, Gadsisar Sagar Lake and Museum.
Amber Fort – Amber fort is one of the best exemplar of Rajput passion for majesty, spendlor and opulence. It is located about 11 km from Jaipur city on the Aravalli hills. It is made up of red sandstone and white marble. And, the structural design of the fort is one of the live examples of Rajput and Mughal trend. Within the fort complex, you will find numerous of places of your interest to explore. Well-known Jai Mandir with its renowned Sheesh Mahal is located inside the Amber fort complex.


Mehrangarh Fort – Mehrangarh fort in Jodhpur is one of India's largest forts that take you back to the splendid past of the Rajput. This fort is also made up of red sandstones. Interestingly, there are numerous palaces within the territorial boundary of Mehrangarh fort. These palaces are well-known for elaborated carvings and extensive courtyards.
Junagarh Fort – Junagarh fort has been considered as one of the most attractive forts of Rajasthan that was built in the medieval period. With consistent efforts to preserve this beauty by the Rajasthan government has helped a great deal in keeping the exquisiteness and magnificence of this fort intact. It was built way back in the year 1588 AD by famous Raja Rai Singh.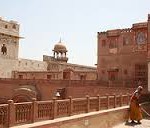 It is a unusual illustration of a medieval period memorial. Some of the key attractions of this fort are few attractive palaces, courtyards, pavilions and balconies.